Changing the face of rural India with palliative healthcare
For almost two decades, KOSISH has been playing a leading role in changing the face of rural India with palliative healthcare.
KOSISH has been providing palliative care services to the elderly and the terminally ill in the states of Jharkhand and West Bengal since 2005
"Palliative care is more than medical. It is psychological and spiritual."
KOSISH has been providing a range of healthcare services to the rural community since 2005.
KOSISH has cared for more than 1,25,000 primary patients in the rural villages of Jharkhand and West Bengal, helping to improve their quality of life and providing medical relief. We help them cope with distressing symptoms like pain, concerns of the body, mind and spirit. We also address the concerns of the caregivers in a holistic manner, including bereavement support.
What is Palliative Care?
Palliative care is a multidisciplinary approach to specialised medical and nursing care for people with life-limiting illnesses.
Palliative care helps the patient and their family to cope with their condition and treatment of it – from pre-diagnosis, through the process of diagnosis and treatment, to cure, continuing illness or death and into bereavement. It helps the patient to maximise the benefits of treatment and to live as well as possible with the effects of the disease.
Our team of doctors, nurses and volunteers currently provide home care to more than 500 patients in the villages. They address the symptoms in a holistic manner, providing relief, sustaining dignity and empowering the family. In addition, we conduct free health check-up camps for the elderly in villages and provide preventive palliation.
Years of community service
End-of-life patients cared
"Rural healthcare is a complex issue and 'holistic' is the only way to do it right."
At KOSISH, it isn't only about providing care for the ailing. We have expanded into committed in-patient and robust out-patient critical services. Over time it has evolved into contributing to allied services such as preventive palliation, caring for the caregivers and taking nursing support to the patient's home. The Hospice has also recently launched the pioneering Palliative Nursing Aides Programme to train rural youth and make local communities self-reliant.
In Patient Healthcare
The hospice is housed on 2.2 acres of land and currently has 15 beds. A 25-bed modern, residential, long-term care facility is under construction.
Patient referrals are made to our centre from:
Department of Palliative Medicine, Tata Memorial Hospital, Mumbai
Cancer hospital, Thakurpukur, Kolkata
Marie-Curie Cancer Hospital, Ranchi
Out Patient Department
Our hospice caters to an average of 80-100 outpatients in the (OPD) every week from Jharkhand and West Bengal.
Concerns addressed:
Ante-natal care
Infertility and gynaecological problems
Skin diseases
Respiratory illnesses
In the last decade, our OPD has treated more than 1,25,000 people.
Home Care Services
Our team consisting of a doctor, a nurse, a volunteer and a psychologist visit the patients at their homes and address their symptoms in a holistic manner.
We currently provide home care to over 500 patients across a 300 km radius.
Family members caring for a terminally ill patient make a huge difference to their morale and attitude.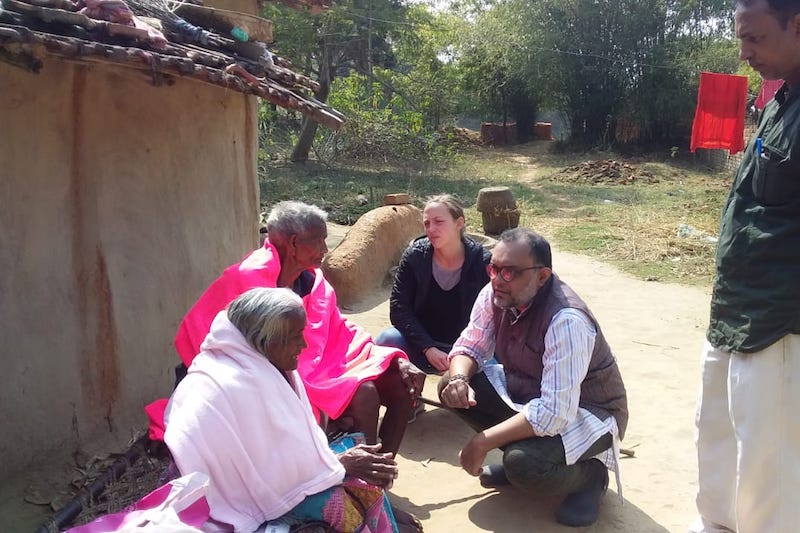 Outreach Programmes
KOSISH has conducted a range of outreach programmes in the community to  establish awareness about health, hygiene and nutrition among villagers.
These include home visits by our health care workers, training of young village women in hygiene and nutrition, skill building and vocational training for women to make them self-sufficient and financially independent, and workshops & conferences at our center.
Palliative Nursing Aides
In the first programme of its kind in India, to empower rural female youth, the Palliative Nursing Aides programme seeks to address the palliative needs of the community at large, especially the rural elderly and bedridden widows who remain grossly deprived and neglected in the local cultural and social environment. As a novel and sustainable workforce in India at the grassroots level, the Nursing Aides Programme is now in its second year.
Spiritual Guidance
We understand the importance of spirituality and religiosity in the last days of life as a part of the meaning-making process.
We help the desirous patients and their caregivers to undergo ritualistic practices like kalavahanam and 'guiding practices' like phowa to transcend the bardo of dying.
In 2005, with a small group of like-minded individuals, Dr Abhijit Dam started KOSISH to provide palliative care services to the terminally ill and the elderly.
Today, in addition to palliative care for the elderly, KOSISH provides training of young rural women in hygiene, nutrition and as nursing aides; value education and mid-day meals for rural children; hosts workshops and conferences in its main centre; and has tied up with IIT, Kharagpur for a Senior Citizen Program. A pilot programme has been activated to train rural female youth to become palliative nursing aides at the grassroots level.
Some of our Hospice Associates
How you can get involved
"What people don't realise is that a $20 bill can go a long way in rural India."
Volunteer Programme
We welcome you to volunteer/intern with us. You will get an opportunity to work directly with real India, fight deprivation first hand and help the ailing to take steps towards a life of dignity. Use the contact form below to get in touch.
Research or clinical attachment
To partner us in research or in a clinical attachment role, get in touch with the contact form below. Tell us your interests, background and qualifications and the outcomes you are looking for.
Donate for the cause
Palliative care, unfortunately, gets limited support from the government and private organisations. Do help. We are covered under section 80G of the IT Act and donors will be provided with a donation certificate for tax exemption purposes.
Regd Office: Plot No B/5, Laxmi Market, Sector IV, PO+PS Sector IV, Bokaro Steel City, Jharkhand 827013
+91-8789976351 +91-9811311001